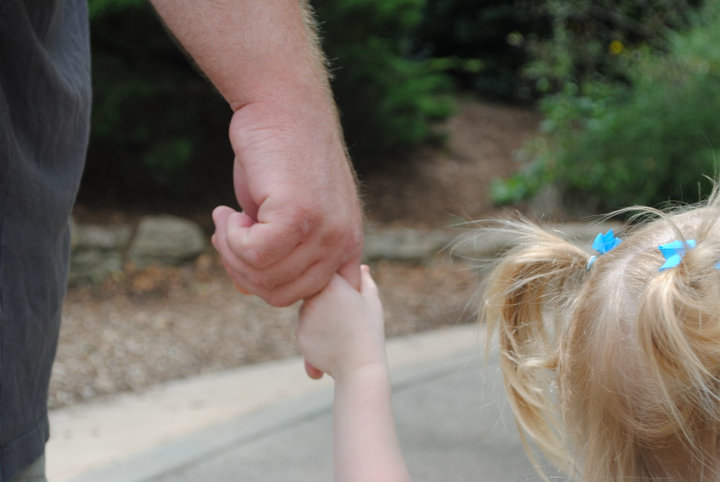 Magoo and I stayed home last night while TJ took the little two out on some errands.  We were just lounging around chatting.  She talked my ear off for probably about twenty minutes about her field trip to the zoo yesterday.  I heard every detail of every second of the trip.  I liked it.  I wasn't able to chaperone, but this made me feel like I had been there with her.
At one point, I looked at her, and I asked her if she would always talk to me like this.  I asked her if she would still come in and share her day with me when she becomes a teenager.  She looked at me with an odd expression and told me that of course she would.
To her, nothing will ever change.  Things, and our relationship, will always be as they are now.
Unfortunately, I know better.  I know that her little world will get bigger and bigger each year she grows.
I'm her mom.  I remember her when she couldn't lift her head up.  That was almost seven years ago.  Seven years from now, she'll be getting ready to graduate from grade school.
Sometimes I look at her, and she seems so old.  She understands so much.  She can communicate so much.
But then sometimes I look over in quiet moments, and I see her innocence, and I am reminded of just how small she still is.
There's a beauty to childhood that we don't often see unless we are able to live with it up close.  There's the innocence and the purity and the joy and the simplicity.
Children are the closest to God that we will ever come while living in this world.
And to be honest, that absolutely terrifies me.
The more I allow myself the moments to see them and breathe them in, the more I realize what a gift I have been given in being their mom.  It sounds silly to call it a gift.  Because it's so very much more than that.
I was so excited to see the pictures this afternoon of the new little princess in England.  She's gorgeous, and she was born with the keys to the world.
But in the eyes of my little girls, I have so much more.  I have the keys to eternity, a glimpse at pure holiness, a touch of absolute purity.
And it breaks my heart and makes me want to sing out in joy.
Magoo had to interview me for a project she is doing at school.  She asked me what the best part of being a mom is.  She laughed at me as I reached for a tissue.  For once, I was speechless.
Because how do you put that into words?
I don't think I can.