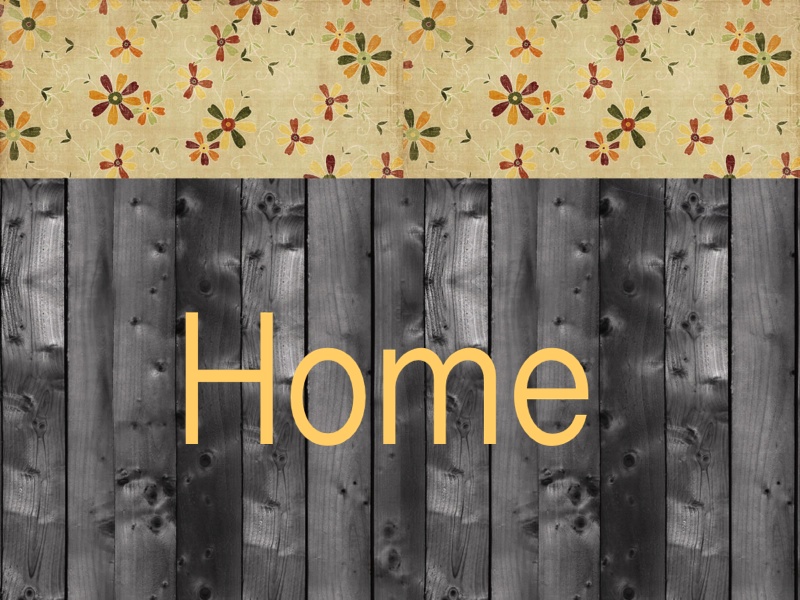 It is supposed to snow this afternoon.  It's nothing overwhelming, but 3-6 inches is a decent amount when the majority of it is supposed to come over the course of a few hours.  We have a birthday party to go to, and then we'll be coming home for the remainder of the evening.  TJ is putting the girls down for a nap, and I'm stuck with a decision — do I go lie down in bed and sleep read, or do I tidy up the house?  The house isn't a disaster, but I definitely have some work to do today.
A few months ago, this decision would have been very difficult for me.  It actually would have caused me to panic.  I would have considered the snow outside, and I would have felt the need to tidy up my house to perfection.  That's what I do.  I get control that way.  I feel like if my house is clean, then I can be okay.
But the thing is that I wouldn't have been okay.  I wouldn't have cleaned my house because I would have been terrified of finding a mouse under my cabinets or by the dishwasher or under a pile of clothes or in the washing machine.  I would have started to tidy up, but then I would have looked at the number of toys I was trying to fit into a bedroom, and I would have gotten overwhelmed.  I would have went to put away laundry, and I would have been overwhelmed by the pile of clean clothes that had accumulated while I was busy avoiding the clothes for fear of rodents.
I would have laid down in bed to sleep.  But not because I wanted to.  I would have been avoiding being awake.
In some ways it was a hard decision — whether to move or not.  Our old subdivision went south after the housing market collapse, and we couldn't sell our house for much of anything.  We were losing our down payment and over six years of mortgage payments.  It was a major step backwards, financially.  But then we were told by every expert we spoke to that we would never sell our house for what we paid for it.  The advice we got around every corner was either hunker down and stay there permanently or cut our losses as soon as possible and start moving forward.
I'm not the type of person who takes risks.  Sure I'll randomly dye my hair red or paint my walls orange (BIG mistake!,) but real, honest risks are not for me.  Despite what all those Buzzfeed quizzes tell me, I'm a rule follower.  A good girl.  I do what I'm supposed to, and that makes me happy.  So to sell our house short was against every true and honest part of my nature.  But then I would look at my girls.  I would think about the neighborhood I wanted them to grow up in.  I thought about how much of their lives were spent in the car driving to and from school and church and even the grocery store.  And I thought about how much of our lives had been spent in a holding pattern for the past three or four years because we couldn't move out of a place that was bringing us down in a neighborhood where everyone we knew had already cut their losses and left a year or two before.
And so we took the plunge.  It felt like we were jumping off a cliff and were just praying that the parachute would open.
And the amazing thing is that it did.  It opened.
I no longer wonder if we made the right decision because I know we did.  Because I'm not worried about tidying up my house because tonight when it's cold and blustery outside, I will be inside my home, cleaning it, tidying it, making it a blessing for myself and my family.  Cleaning it won't be about control because I already feel that control.  Cleaning will be about family and growth and comfort.  It will be a blessing.  It will be a step forward.
I grew up knowing the meaning of home.  I had a nice, comfortable home that made me feel safe and secure.  It was a place I could launch from and come back to.  And I guess it wasn't until the last few years that I realized just how much that meant.
Over the last few months, I've thought frequently about the meaning of home, and every time I do, I find myself feeling more and more compassion for those without comfortable homes – whether it means they have no home or no home to feel comfortable in or they have a home that's filled with anger or hostility.  Because without a home, it's hard to focus on anything.
Home gives us a place to cuddle up in at the end of a long day.  It gives us a place to pursue our passions.  It gives us a place that we can call our own in a world that sometimes doesn't feel very warming.  It gives us a place to love those we hold most dearly.  It gives us a place to reminisce about old dreams and conjure up new ones.  It gives us a place to make our own, and it gives us a physical place to make our mark.
Our home is a reflection of ourselves and what we hold dear.
And so while the decision of whether or not to sell our old house was a difficult one at the time, I am supremely confident that it was the right one.
Tonight when I'm cuddled up with TJ and my girls, I will be saying a silent prayer that finally we once again have a place to feel at peace.