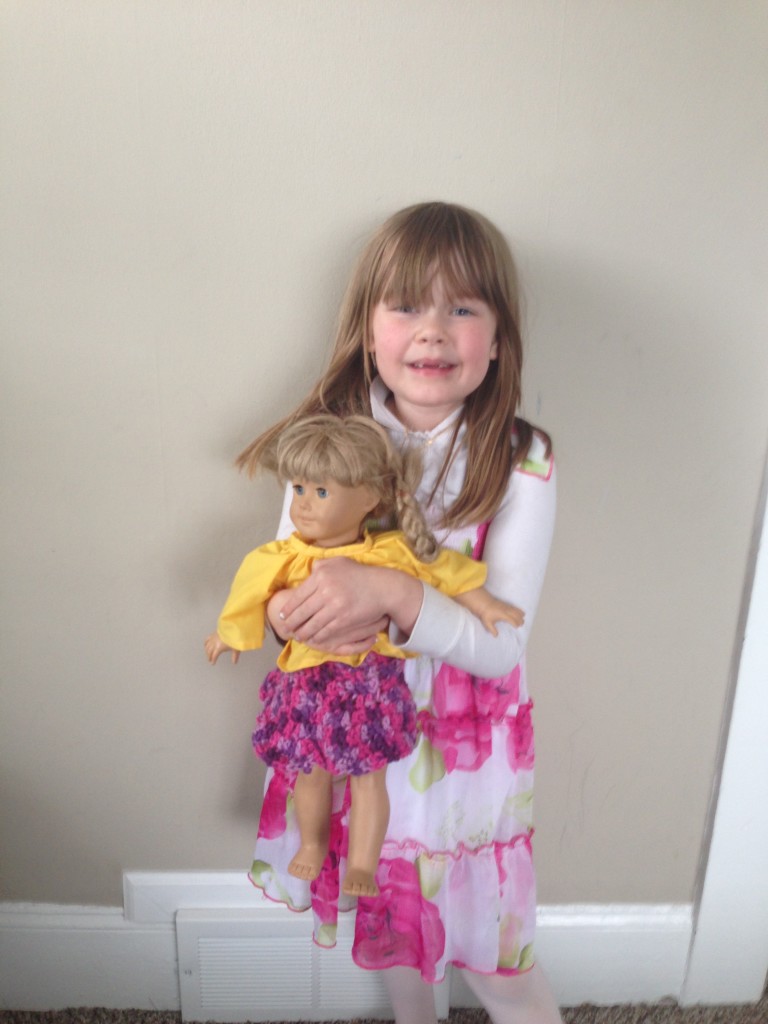 There's this little girl upstairs sleeping.  Well, actually she's not sleeping.  She's scouring the ceiling for bugs and reading books she has smuggled into her bed.
But still, there is this little girl upstairs.
I first met her almost seven years ago.  She was small – 7 lbs 14 oz.  And she was perfect.  In fact, she was so perfect that I spent months waiting for something to happen.  Because surely someone this perfect could not have come from me.
But she did.
We spent three years pretty much alone, she and I.  Of course at nights and on weekends, we had TJ home.  But all day every day, it was just she and I.  My little buddy.  My little Magoo.
We were in the car the other day driving home from the bookstore, and I started telling her about those days.  The days before our family became full.  To be honest, I think she's kind of sick of hearing all those stories.
I look at her now, and it's hard to believe that she is the same little baby from all those years back.
Because now she is a kid.  I called her a little girl, but she barely qualifies anymore.  Truth be told, she's a kid.  Not a little kid, not a small kid, not an almost big kid.
I used to always fear the new years.  I would hold her little pudgy toddler hand, and I would pray that the moments would last forever.  I would lie on the floor reading her Oh the Places You'll Go before she could even make out the pictures, and I would think that no other moment could be more special.  I knew school days and uniforms and soccer practice and dance classes were coming.  But I wanted to push them off.  I wanted to stay in our little bubble as long as possible.
Well, the bubble has burst, and with it, she has burst out into the world.  She has friends and she's in activities.  Her world is so much bigger than it was all those years ago.
And the funny thing is that even though I miss those toddler hugs, I couldn't be more happy with where we are now.
Now in the places of tottering steps and food mashed all over her face, I have a wonderful little lady who can walk confidently into a room.  Who knows what she wants.  Who isn't afraid to say what she believes.  Who has confidence and compassion and empathy and intelligence and creativity and joy.
Every night, I take each of the girls up to my room one on one, and I read to them.  We are almost done with Charlotte's Web.  It is in these moments more than any other that I realize just the gift I have in all three of them.
Magoo is not one to cuddle all that much, but she'll scooch up next to me, and nestle in the crook of my arm.  She will ask me to read to her while she just listens, and I oblige because I want her to feel safe and secure and comfortable and at peace.
After we are done reading, we'll talk about it for a bit.  And we'll plan books to read.  Our list is a mile long.
And that is absolutely find with me.
Because I realize that the bigger her world gets, the more I will have to work to stay a part of it.  The more she experiences, the more she'll need someone to filter it all through.  The more new people and new joys she encounters, the more she'll need to be grounded in the old and the familiar.
Mom isn't exciting.  Mom isn't new friends and new toys and new sights and sounds.
Mom is the old and the comfortable.  Perhaps battered and beaten a bit like a favorite teddy bear, but loved all the more because of it.
And as always, I am so honored and blessed to be that person for my Magoo.
And so, as you turn seven Magoo, I wish you joy and happiness and peace and comfort and faith and love and adventure.  The world is at your fingertips.  With each new day, you experience more and more of it.  I am so happy to be your cheerleader and your companion and your guidepost and your way home.
I love you Schiminity.  Always and forever, from here to the moon and back, as big as the whole world.
Seven years ago, you made me a mom.  Being a mom to you and your sisters is the highlight of my life.
Above all, I say thank you.